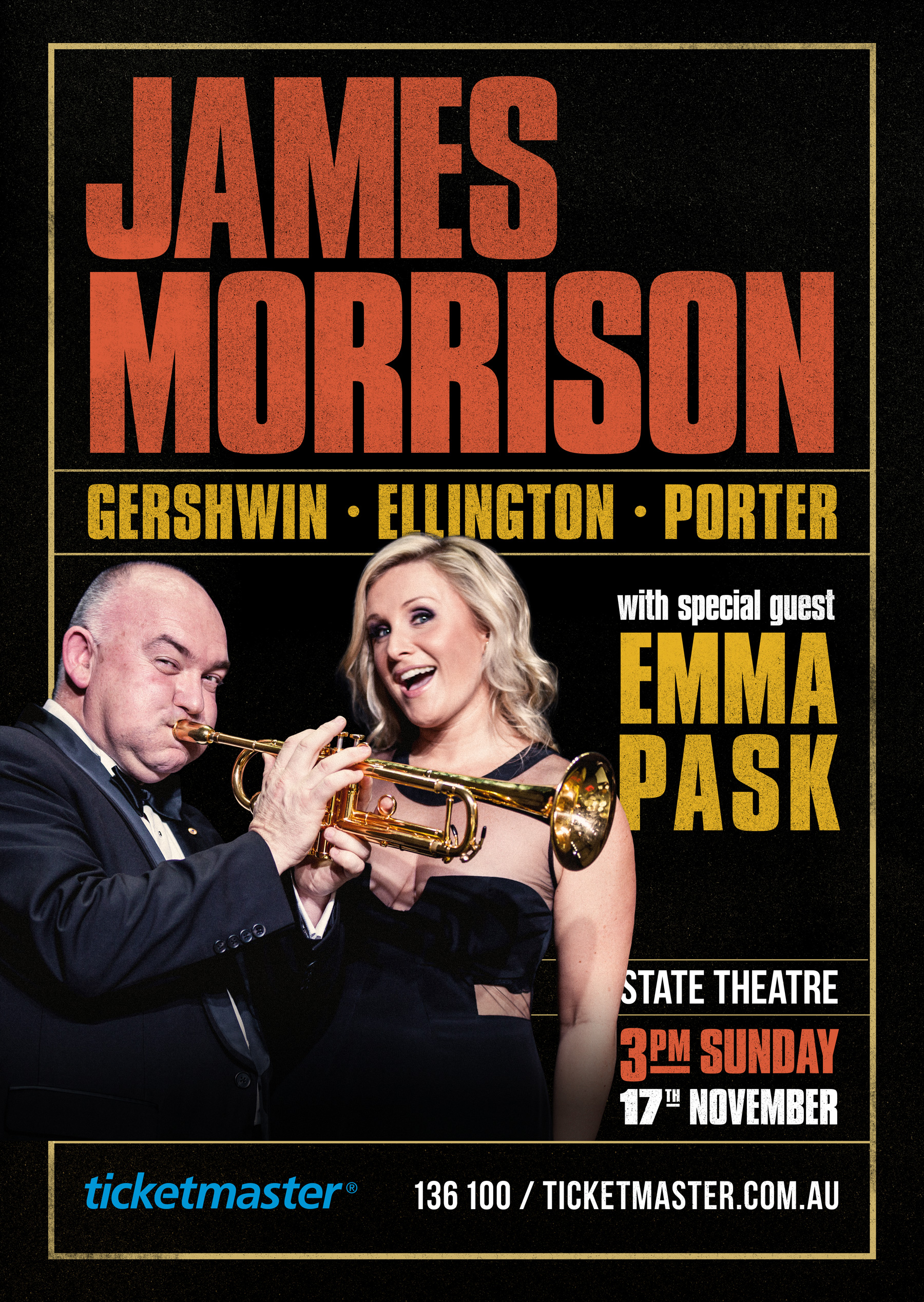 Emma Pask with James Morrison

| | |
| --- | --- |
| | November 17, 2019 |
| | 3:00 pm |
| | Sydney |
| | The State Theatre |
Playing Gershwin, Duke Ellington, Cole Porter & More
It Don't Mean a Thing If It Ain't Got that Swing! Step back in time for a toe-tapping and finger-snapping musical treat with international trumpet maestro James Morrison and special guest Emma Pask, as they bring to life timeless classics by George Gerswhin, Duke Ellington, Cole Porter and more, in the grandeur of Sydney's magnificent State Theatre.
Re-live the fabulous numbers made famous by these jazz legends and enjoy a rare celebration of this golden era of jazz. You're sure to be in the mood swingin' along from the first note.
Renowned globally as one of the finest jazz players of his generation, James Morrison is a not only a trumpet virtuoso, but the complete showman. James started playing professionally at age 13 and has a stellar professional career behind him: he has performed alongside the best jazz musicians of our generation and has had the privilege of performing for the President and First Lady of the United States. When asked about his extraordinary career, James declared, 'This is just the warm-up!'.
Award winning vocalist Emma Pask has firmly established herself as one of Australia's favourite voices in Jazz. Her talent was first spotted by James during one of his regular visits to high schools when she was just 16 years old. Emma first sang with James' band that night and their musical collaboration has continued to entertain audiences nationally and internationally over the past 20 years.
Grab your friends and prepare to be blown away by this special salute to the jazz legends with these two great artists, on a Sunday afternoon at Sydney's State Theatre.
James Morrison
"The Genius"… Ray Brown
"Man, James Morrison can play"… Wynton Marsalis
Emma Pask
"Whist it's fashionable to be a jazz singer these days, she is the real thing!"… James Morrison